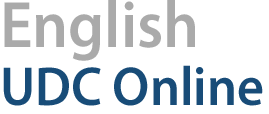 03 Feb 2019 - UDC Online English has been updated with the new UDC Master Reference File data (MRF12). This includes changes to around 6,000 classes (over 2,000 new classes, 3,000 modifications and over 700 cancellations). Notable changes are in language tables (Romance languages, African languages), place tables (Central America, Antarctic territories, Scandinavian countries, Russian Federation), mathematics (algebra) and biology (invertebrates, algae, fungi).
The English version of the UDC Online is a complete standard edition of the scheme on the Web with around 72,000 classes extended with more than 12,000 records of historical UDC data (cancelled numbers). The UDC Online always shows the latest updated version of the Universal Decimal Classification scheme.
The UDC Online service has a number of features to facilitate searching, browsing, parsing, validating, filing and building of UDC numbers. Searching and viewing of cancelled numbers is intended to help users trace cancelled numbers and their redirections, which may still exist in library collections.